𝟯 𝗛𝗢𝗨𝗥𝗦 𝗢𝗙 𝗟𝗜𝗩𝗘 𝗜𝗡𝗧𝗘𝗡𝗦𝗜𝗩𝗘 𝗔𝗖𝗧𝗜𝗡𝗚 𝗦𝗘𝗦𝗦𝗜𝗢𝗡
STARGLAZZE FILM AND TELEVISION ACADEMY PRESENTS 𝗧𝗛𝗘 𝗔𝗖𝗧𝗢𝗥'𝗦 𝗚𝗢𝗟𝗗𝗘𝗡 𝗕𝗢𝗫 By 𝗞𝗔𝗕𝗜𝗥 𝗦𝗔𝗧𝗥𝗔𝗟𝗞𝗔𝗥 (ACTOR & RJ).
𝗞𝗮𝗯𝗶𝗿 𝗦𝗮𝘁𝗿𝗮𝗹𝗸𝗮𝗿 is a great acting Trainer, RJ, AND Voice-Over artist. Starglazze is proud to present him as our guest speaker for live streaming.
👉 FOR BEGINNERS, INTERMEDIATE & ACTOR'S
👉 GRAB YOUR GOLDEN TICKET TO THE FILM INDUSTRY
About Our Guest 𝗞𝗮𝗯𝗶𝗿 𝗦𝗮𝘁𝗿𝗮𝗹𝗸𝗮𝗿:
Actor, Radio Jockey, voice-over artist, Film Maker & Trainer in the Indian film industry.

𝗤𝘂𝗮𝗹𝗶𝗳𝗶𝗰𝗮𝘁𝗶𝗼𝗻 – Diploma in Film Making, Degree in 'Theatre & Drama' & MBA in Education Management

𝗘𝘅𝗽𝗲𝗿𝗶𝗲𝗻𝗰𝗲 – 21 years (TV, Radio, Stage Play, and Journalism)
15 years Theater, Speech & Drama, Film Acting, Voice, RJ & Anchoring Trainer in Mumbai & Pune
Acted in various Hindi & Marathi TV Serials like "Crime Patrol", "Savdhan India", "Saathiya", "Lakshya", "RK
Laxman ki Duniya", "Preetam Pyare", "Ek Mohor Abol" etc.
Limited Seats! Booking Confirmation On First Come Basis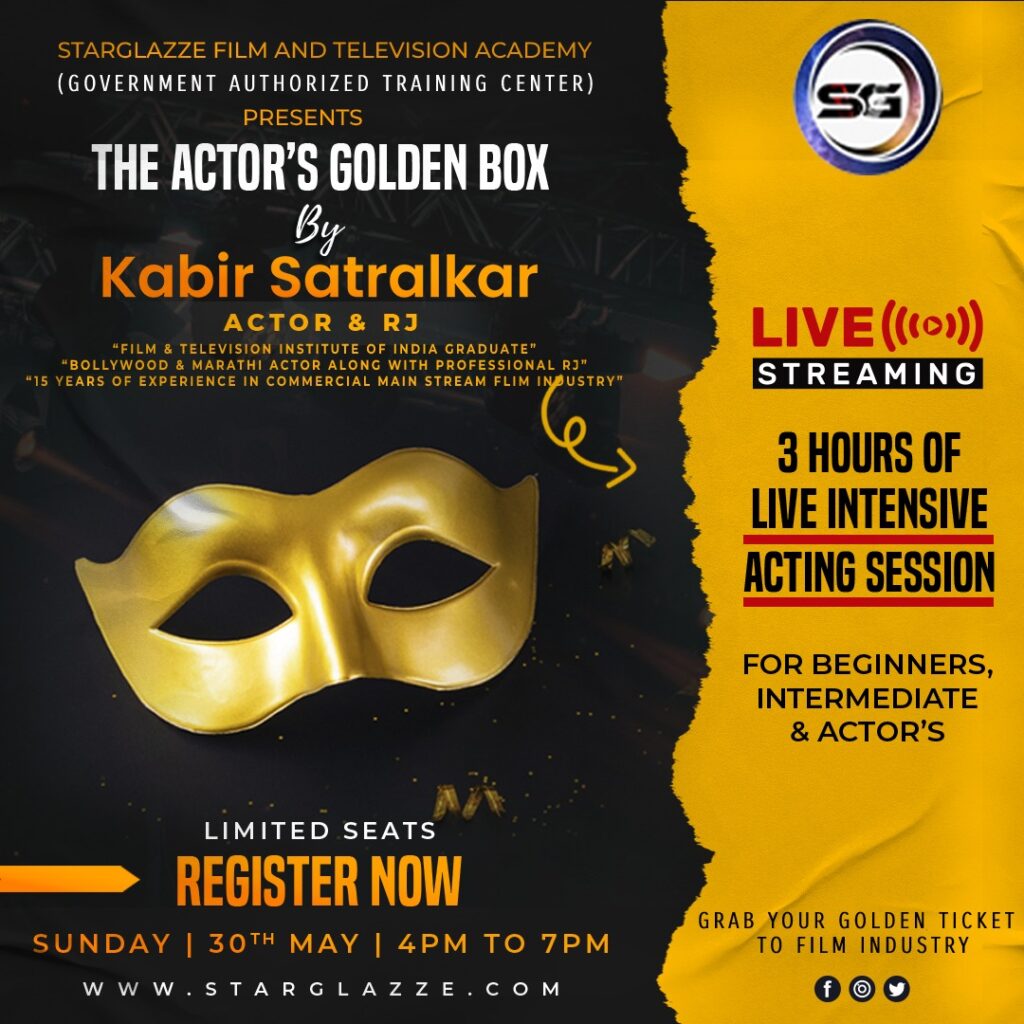 𝗦𝘁𝗮𝗿𝗚𝗹𝗮𝘇𝘇𝗲 offers full-time and part-time creative and technical screen Acting, Modelling, Cinematography, Film Direction, Film Making, Photography, Video Editing, Sound Engineering programs that are up to date with Bollywood and International film industry standards. StarGlazze also continues to offer a range of Short Screen Acting courses for Beginner, Intermediate, and Advanced levels whilst catering to a range of other industry needs – including training in Accent, Presenting to Camera, and Improvisation.
Acting is about LISTENING… and then react! It's never going to feel real if you are just waiting to deliver your line.