Starglazze Is A Government authorized training center
A monologue is a scene where only one character speaks. The other character listens. And here's the catch… you're going to imagine that other character standing in front of you. Why is the definition so important? Because as an actor, you must be always pursuing an objective. You must remain active.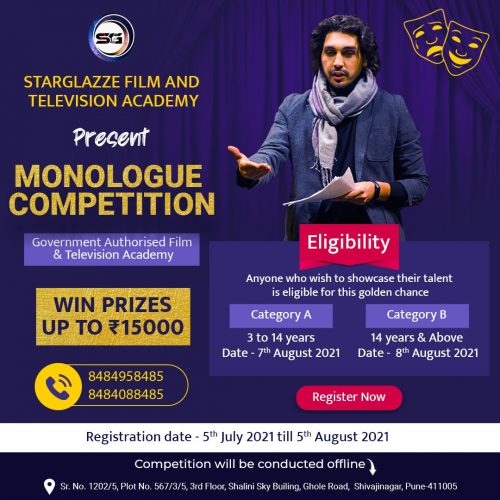 Anyone who wishes to showcase their talent is eligible for this golden chance.
Category A – 3 to 14 years
Date – 07th August 2021
Category B – 14 & Above
Date – 08th August 2021
Limited Seats! Booking Confirmation On First Come Basis
Registration will start from 5th July 2021 till 5th August 2021.
Results will be announced on the same day on Starglazze Film And Television Academy's website. 
By participating in Starglazze Film And Television Academys Monologue Competition, each entrant agrees to abide by these General Rules and the decisions of the Starglazze Film And Television Academy, Sponsors and Judges, which are final and legally binding as they pertain to the contests. Starglazze Film And Television Academy and Sponsor reserves the right at its sole discretion to disqualify any individual it finds to be tampering with the entry process or the operation of the Contest or the web site or to be acting in violation of the General Rules. Sponsor reserves the right to lock out an entrant whose eligibility is in question or who has been disqualified or is otherwise ineligible to enter.
Monologues must not exceed 3 minutes.
Things to be taken care of while shooting a monologue

Maintain proper/decent background
You can shoot with cell phone camera/ professional camera both. Do not use the front camera/ selfie camera while shooting on a cell phone.
Make sure audio is loud and clear
Makeup and costumes would be more preferred, but not compulsory.

 Monologues should be in Marathi, English, Hindi only.
 Vulgarity in any form of meaning, dialogues, or actions is strictly forbidden. Also may lead to disqualification.
 The videos should be mailed on

[email protected]

 The decisions of the judges will be final and binding.
 Multiple entries from the same person are not allowed.
 Submissions must not:

violate any third-party rights, including, but not limited to, copyrights, trademark rights, or rights of privacy and publicity
contain defamatory statements
include threats to any person, place, business, or group

 Any elements that appear in the submission, including, without limitation, images, text, or other materials used must be entirely original and created by the entrant or be in the public domain. Use of any elements that are not original or in the public domain will result in disqualification of a submission.
 By submitting an entry, you represent that:

you are the creator of the submission.
you own all rights to the submission.
the submission does not infringe upon or violate the intellectual property, privacy, or other rights of any third party.

 Entry Fees once paid can not be returnable/ refundable under any circumstances.
By taking enrolment, the participant submits to the above-said terms and conditions.
Don't Wait Now, Give a try
Anyone who wishes to showcase their talent is eligible for this golden chance.
Category A – 3 to 14 years
Date – 07th August 2021
Category B – 14 & Above
Date – 08th August 2021
CAUTION: ANY ATTEMPT BY AN ENTRANT TO DELIBERATELY DAMAGE ANY ADMINISTRATOR'S SITE OR ANY THIRD PARTY WEB SITE OR UNDERMINE THE LEGITIMATE OPERATION OF THE PROMOTION MAY BE A VIOLATION OF CRIMINAL AND CIVIL LAWS AND SHOULD SUCH AN ATTEMPT BE MADE, SPONSOR RESERVES THE RIGHT TO SEEK DAMAGES AND/OR OTHER REMEDIES FROM ANY SUCH PERSON TO THE FULLEST EXTENT PERMITTED BY LAW.